10 types of business loans: understanding various financing
2 August 2021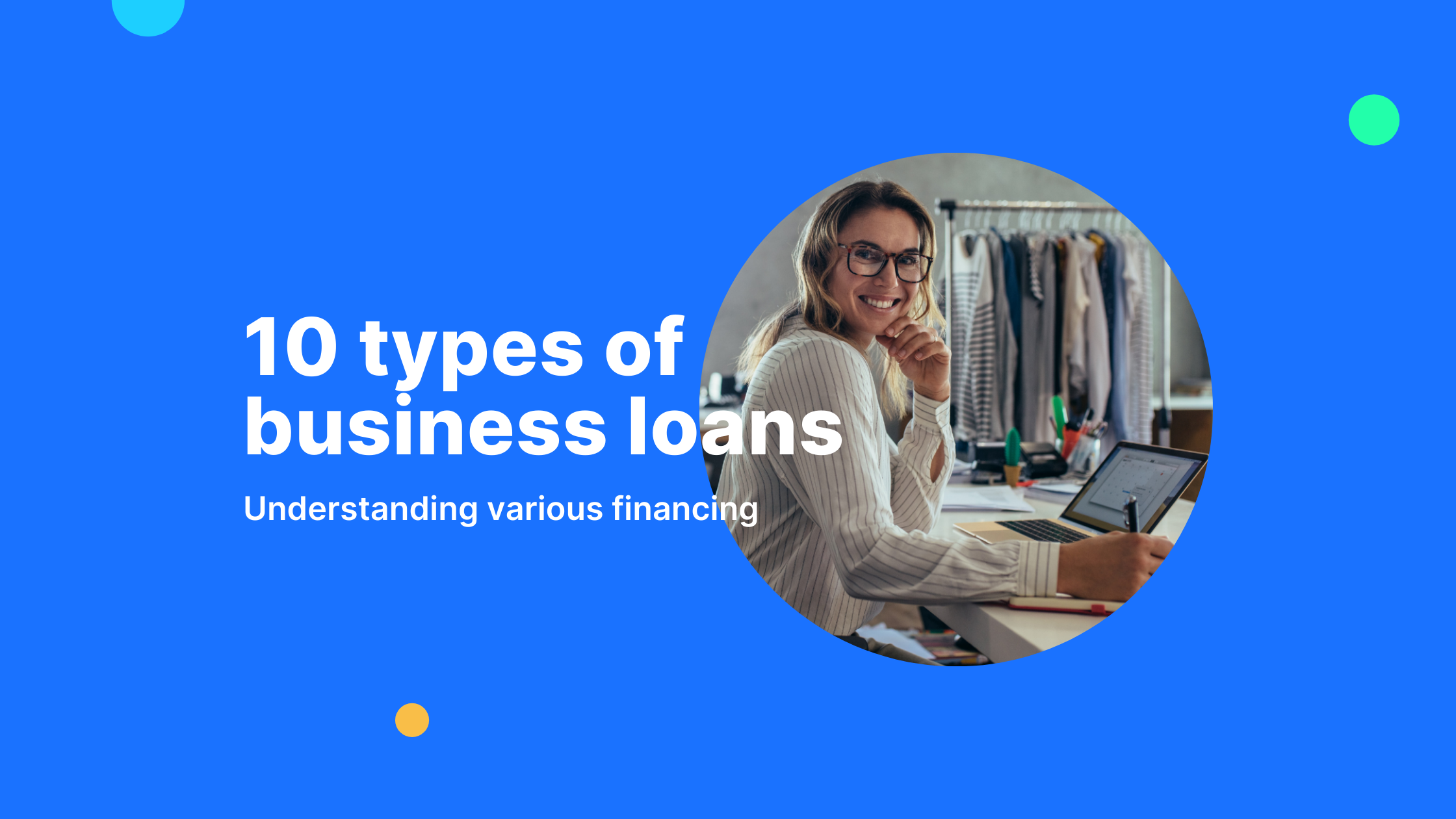 As a small business owner, there are many types of business loans to help out your business.
And from time to time, your business may need a bit of a quick cash injection. That might be to secure more inventory in the lead up to the holidays or quickly help with an insurance claim.
While there are many business loans out there for you, they're not all created equal.
Luckily, this article will give you a heads up on some of the most common types of business loans and explain how they can help (and also hinder) your business.
Common types of business loans
Banks, credit unions and alternative lenders are aware that small businesses like yours have various needs. Therefore, they create products that are targeted to your needs.
For example, taking out a term loan just because cash flow is a bit tight this month isn't exactly a wise business decision. Invoice factoring is a great way to get an unpaid invoice paid if you have a retailer that's just a little late paying their quarterly invoice.
Finding the correct type of loan for your business needs is just as crucial as getting the money that comes with the loan.
1 – Inventory financing
Inventory financing is a loan that's used to acquire more products to then sell. It's a type of business loan commonly used by ecommerce brands, retailers, and other merchants selling a physical product. The inventory that's purchased with the loan serves as collateral rather than other business assets. It's an ideal way to prepare for seasonal demand.
Booste is a flexible lender, able to offer finance for your inventory expenses. Repay your inventory loan as a percentage of your future income rather than a fixed amount with fees as little as 9%. Click here to learn more.
2 – Short-term online loans
Also known as peer-to-peer business lending, these types of business loans allow businesses to get funding directly from other individuals or via an online portal. Short term loans can help with cash flow, covering an unpaid invoice or an insurance premium.
With no need for a bank to act as a middle man, approval is quicker and less or no collateral is needed.
Booste is a leading short-term lender that helps ecommerce businesses get funding in as little as 48 hours. Click here to see how Booste can help you.
3 – Microloan
Microloans are a type of business loan that's small in total sum and either comes with small repayments or is repaid very quickly. Funds are usually targeted toward daily expenses. They're 'micro' loans due to the fact that they're small – usually $50k or less. Borrowers don't need to put up collateral but need to show some income and expenses. They're a typical business loan that's used by small and medium businesses and startups to cover unforeseen expenses.
4 – Invoice financing
Invoices are core to two types of business loans. Invoice financing is a type of business loan that gets you a loan using unpaid invoices as collateral. The lender sees that you have invoices that are to be paid but just haven't been paid yet, and then gives you a loan considering those unpaid invoices as unpaid capital. A great way to get fast cash, but you still need to get those invoices paid and then pay back the loan.
5 – Invoice factoring
Invoice factoring is another type of business loan that gets your unpaid invoices paid but removes your control of getting said invoices paid. In this type of business loan, you sell your invoices to a factoring company that pays you the amount due (less some fees). They then chase the company that's responsible for paying the invoice. While this gets your unpaid invoice paid, it may not be the best way to build relationships with suppliers who are just slow to pay!
6 – Alternative lending
Loans don't always have to come from a bank. Consider the following:
Crowdsourcing
Grants
Venture Capital
Intellectual property finance
Angel investors
Alternative lending has many different types of business loans. Some, like grants, are money that's donated by proving your hard work and doesn't need to be repaid. Others like Venture Capital funding means that you get a significant cash injection, but you give away a percentage of company ownership to an investor.
Learn more about alternative types of business loans here.
7 – Business lines of credit
Like a (very) large credit card, a business line of credit gives a company access to a sum of cash up to a specific limit. Interest is charged only on what you spend, which creates a flexible borrowing situation if you don't know how much you need. The downside is that, like credit cards, fees can be high and traditional lenders usually have stricter borrowing limits.
8 – Merchant cash advances
A great way to get a lump sum of cash upfront is to pay back a merchant cash advance as a percentage of your daily, weekly or monthly income. In other words, when your profits are slim, repayments are slim. When yields are higher, repayments are higher. These types of business loans are suited for companies that need cash in a hurry but don't qualify for emergency funding. The downside? Borrowing costs and fees are often exorbitant.
9 – Business credit cards
A revolving line of credit that's best suited for ongoing business expenses, business credit cards have perks such as rewards on purchases and don't need collateral. They are commonly high-cost, with a hefty monthly or annual fee just for having the card, and interest rates can be pretty steep, too. Like a consumer credit card, as long as you make the minimum monthly repayments and don't exceed your credit limit (or keep increasing your credit limit), a business credit card can help a business with daily expenses.
10 – Startup loan
When looking to grow and scale a new company, the company's own credit rating may not be enough for a bank to take it seriously. A startup loan is a type of business loan that's ideal for businesses in this situation.
For startup loans, as the company and business is brand new, the applicant may have to put up personal collateral. The lender may also consider the personal credit rating of the applicant. Factors like the turnover figure, net profit and loss margins, and other financial elements help the lender decide on the amount and length of the loan and the interest rate.
Conclusion
Finding a business loan that suits your needs is vital to ensure the health of your company's finances. You've just seen 10 types of business loans that can help your business, no matter what situation you're in. Once you've decided on the type of loan you need, the next step is finding a lender that you like and want to work with.
If you're an ecommerce company that's looking for a loan, Booste can help you. With a fast approval process and repayments via revenue share, you can get the financing you need quickly and know that the repayments won't cripple your cash flow. Click here to see how much money you can get.